So, we have been getting a lot of questions about the new AeroPress models shipped last August. People are wondering what happened to the old cloudy blue model AeroPress (the model they had come to love) and what's the deal with the new clear models. At the WCP™ we love our Aeropress and wanted to know as well; here's what we learned
The good folks at Aerobie have a few reasons why they changed the plastic they use in the AeroPress.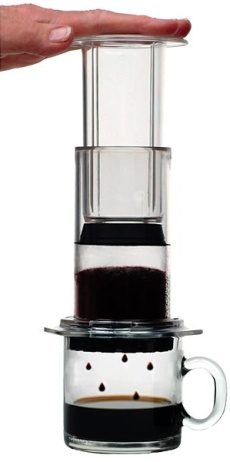 New clear AeroPress made of copolyester plastic
Probably the greatest reasons Aerobie saw fit to changing the plastic used in their AeroPress design was that there were worries that the high humidity and temperature resistant polycarbonate, used to make the chamber and plunger of the AeroPress, might be prone to leaching BPA. At the World Coffee Project™, we have to admit that some members on our team were also concerned with this very issue, but overlooked this concern for reason that the AeroPress produced such a superior cup of coffee.
As for the older, cloudy blue AeroPress models, these did contain phthalates, though they were never shown to contain any signs of the dreaded BPA. When the people at Aerobie had the Aeropress tested by an independent lab, they found that, even in a well used AeroPress, there was absolutely no amount of BPA traceable.
So, if you're asking yourself, does my old AeroPress contain BPA, the answer is no.
With all that said about BPA, the people at Aerobie still decided on a copolyester plastic for their newest model, and there were two reasons for this. First, even though there were no traces of BPA in the original AeroPress, the people at Aerobie thought that the new material would take away perceived risks associated with BPA, and second, the new material would allow the company to make a clear model. Unlike it's old-school, cloud blue counterpart, the people at Aerobie thought that the new material would give the coffee maker a more appealing look and allowed one to get a better look at their brew.
For more information check out the Aerobie website at: www.aerobie.com